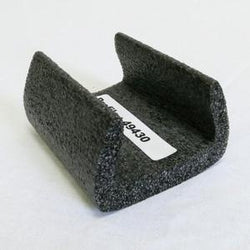 AEROTAPE®
Request For Quote, Please Fill Out Form To The Left Under Product Photo:
Protective Foam 49430
GROUND SUPPORT PROTECTIVE FOAM 49430
Contact with ground support equipment is a leading cause of hangar rash. These Protective Foam Profiles provide and easy, cost effective way to combat this problem.
Extruded and pre-molded protective foam pieces in a variety of shapes that can be applied to rolling ladders, scissors lifts, scaffolding, tool boxes, etc. . . to prevent damage to the aircraft's exterior resulting from incidental contact.
Description
EXTERIOR PROTECTION
Eliminate Hangar Rash! Our custom extruded foams are designed to protect an aircraft's delicate edges while our low-tack tapes guard the windows, leading edges, air stair door steps, and more.
Technical Data:
Density 2.2 – 2.4 pcf
Color: Black
Length: 72"
Piece Count: 30
Feet Per Container: 180
Package: 13"x13"x74" Box
Back to the top