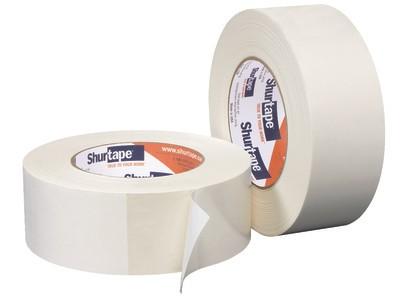 Industrial Grade Double-Coated Cloth Tape Used For Carpet & Pad Installation At Convention Centers, Arenas & Hotels, As Well As For General Purpose Holding & Mounting Applications. DF642 Offers Aggressive Adhesion, Conformability & An Easy-Release Liner, Making It A Versatile Solution For A Variety Of Tasks. The Tape Comes On A White Siliconized Paper Release Liner.
Industrial grade double-coated cloth tape
Adheres to smooth and irregular surfaces
Conformable
Technical Information
Shurtape DF-642 Industrial-Grade Double Coated Cloth Tape
Adhesive:

synthetic rubber.
Carrier/Backing:

polyester/cotton blend cloth
Release Liner:

white siliconized paper
Thickness:

12 mils (carrier, adhesive)
Adhesion:

32 ounces per inch (to stainless steel test panel)
Tensile Strength:

32 pounds per inch (longitudinal)
Tack:

8 inches (rolling ball)
Service/Operating Temperature:

50°F to 225°F
Core:

3" diameter
Nominal Tape Widths vs Actual Widths
Tape rolls are cut to standard tape industry metric widths of approx. 24mm per 1-inch of nominal width ordered. As a result ACTUAL tape widths are normally 5% narrower than the NOMINAL width shown in inches. Examples:
1" Nominal width = 15/16" (24mm) Actual width
2" Nominal width = 1-7/8" (48mm) Actual width
3" Nominal width = 2-13/16" (72mm) Actual width
Note that tape rolls are NOT guaranteed to be splice-free.
---
We Also Recommend
---