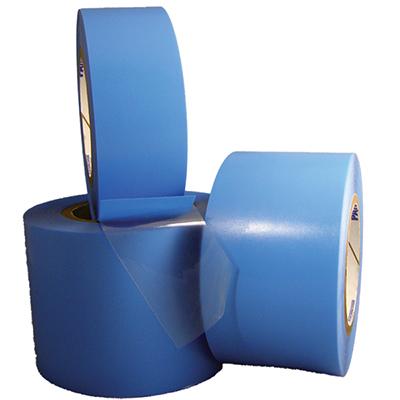 Patco
Request For Quote, Please Fill Out Form To The Left Under Product Photo:
Patco D9200 - Transparent Flame Retardant Aircraft Waterseal Tape
Patco D9200 
Transparent Flame Retardant  Aircraft Waterseal Tape
Recommended Uses
Aircraft waterseal applications in main cabin wet areas (galleys, lavatories, entryways).
Wide width availability allows for sealing large areas.
Reinforce and provide moisture barrier for aircraft insulation fastener opening.
Patco D9200-50 Linered, Flame Retardant, Clear Polyurethane Moisture Barrier Tape Meets:
FAR 25.853(a)
Fokker Fk05-193
Stock Status:  Non-stock.  Minimum of two (2) weeks for us to receive new rolls from Patco  (this tape is not readily available from Patco; it is normally a "made-to-order" tape)
Shelf Life:  Twenty-four (24) months from DOM
Features & Benefits
Flame retardant, very tough, elastic, water resistant, and transparent.
Meets vertical burn specs.
Holds up under heavy use.
Excellent moisture barrier.
Allows visual inspection.
Repositional and permanent.
Ease of installation.
Stays bonded.
Extra thickness for stay-flat and stability.
Excellent for die-cut pieces.
Highly visible.
Tougher than paper.
Speeds removal, & no tearing during application.
Thickness (mils) : 14
Elongation (%) : 340
Adhesion (oz/in) : 80
Adhesive Type : Polyurethane
Tensile (lb/in) : 90
Vendor Resource Number : D9200C4M51RD
Color : Clear
Width : 4 Inch
Length : 36 Yard
Nominal Tape Widths vs Actual Widths
Tape rolls are cut to standard tape industry metric widths of approx. 24mm per 1-inch of nominal width ordered. As a result ACTUAL tape widths are normally 5% narrower than the NOMINAL width shown in inches. Examples:
1" Nominal width = 15/16" (24mm) Actual width
2" Nominal width = 1-7/8" (48mm) Actual width
3" Nominal width = 2-13/16" (72mm) Actual width
Note that tape rolls are NOT guaranteed to be splice-free.
Back to the top