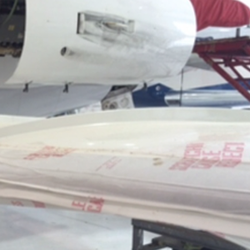 Mask-Off
Request For Quote, Please Fill Out Form To The Left Under Product Photo:
PROTEX 50 - Printed Paper Protection Tape (Mask-Off)
Custom Converting & Slitting Available. Call 407-426-9175
---
PROTEX 50
Single-sided Printed Paper with Natural Latex Adhesive
PROTEX 50 Protective Paper is a 4-5 mil latex saturated paper. It is used for protection of various metal and painted surfaces to reduce surface damage due to scratches. It can be left on the surface during fabrication and forming operations. The material is self-wound for ease in machine application to flat surfaces.
Paper is printed in red "SCRATCHES CAUSE REJECTIONS – HANDLE WITH CARE" 
This product is not intended for fly-away applications.
Specifications
Boeing BAC 5034, Type IV, Class I, Grade A, Boeing, BAC 5317
Applications
INDUSTRIES: Aerospace

APPLICATION: Surface Protection

APPLICATION DESCRIPTION:
Protection of various metals and painted surfaces from damage caused by scratches. Self-wound for ease of use in machine application to flat surfaces.
APPLICATION NOTES:
Application surface: Metals, Plastics, Glass, Painted Surfaces
Technical Data
Mask-Off Protex 50
MATERIAL DESCRIPTION:
| | |
| --- | --- |
| ADHESIVE TYPE: | Pressure-Sensitive |
| CONSTRUCTION: | Single Coated |
| LINER: | None |
TECHNICAL DATA:
| | |
| --- | --- |
| ADHESIVE LAYER: | Rubber |
| ADHESIVE LAYER DESCRIPTION: | 5 mil Natural Latex |
| BACKING/CARRIER MATERIAL: | Paper |
| ADHESION TO STEEL: | oz/inch width 17-22 (-3/+4) (At time of manufacture) PSTC-1 (Modified) |
| TENSILE STRENGTH: | lbs/inch M.D. 12.7 min |
| ELONGATION: | % M.D. 6.0 min |
| TEMPERATURE OPERATING: | 150° for 1 hour, No heat |
Back to the top