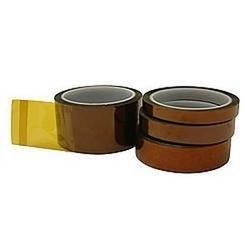 Adhesive Tape Products
Request For Quote, Please Fill Out Form To The Left Under Product Photo:
Kapton Alternative KPT-2 (Adhesive Tape Products)
Kapton Alternative KPT-2
2 mil electrical grade Kapton alternative polyimide film coated with a high performance silicone adhesive. Thin and conformable, with outstanding tear and abrasion resistance at elevated temperatures. Adhesive will thermoset to increase adhesion values. Leaves minimal residue when removed after manufacturing process; reduces clean-up time and minimizes rejects. Permits observation of board during processing. Excellent resistance to to acids, oils, solvents, aging, staining, water immersion. Protects gold contacts from molten solder during hot air wave solder leveling process. Film meets UL510. Formulated to meet spec: MIL-P-46112B.
Technical Data:
Film thickness 2.0 mil
Total thickness 3.4 mil
Tensile strength 21 lbs/in
Break strength 30 lbs/in
Adhesion 23 oz/inch width
Elongation >40%
Temperature resistance 392F (200C)
Dielectric strength 6500 v
Nominal Tape Widths vs Actual Widths
Tape rolls are cut to standard tape industry metric widths of approx. 24mm per 1-inch of nominal width ordered. As a result ACTUAL tape widths are normally 5% narrower than the NOMINAL width shown in inches. Examples:
1" Nominal width = 15/16" (24mm) Actual width
2" Nominal width = 1-7/8" (48mm) Actual width
3" Nominal width = 2-13/16" (72mm) Actual width
Note that tape rolls are NOT guaranteed to be splice-free.
Back to the top