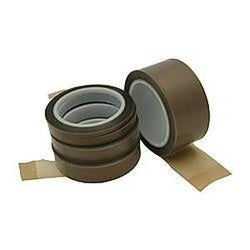 Adhesive Tape Products
Request For Quote, Please Fill Out Form To The Left Under Product Photo:
TFES-2HD Teflon Tape
PTFE-2HD Skived Teflon Tape
Is a 2 mil high density tensilized pure skived Teflon™ (PTFE film) tape with a high temperature silicone adhesive. It comes self-wound without a liner. Used in electrical applications such as harness / coil wraps & separators, transformers and slot liners where good insulation and heat resistance are required. Also used in mechanical applications such as heat sealing bars & jaws, labeling machine pressure pads, chute liners, anti-friction devices, bearings, forming dies, aircraft mold release & guide rails where high temperature, maximum slip and lubricity are required. PTFE-2HD provides higher tensile strength, lower elongation and higher dielectric strength than regular skived film. It is primarily used for electrical applications listed above & for roll protection in flat die extrusion.
Technical Information
PTFE-2HD Skived Teflon Tape
Adhesive:

silicone  

Carrier/Backing:

polytetrafluoroethylene (PTFE) film / pure skived Teflon

Thickness:

3.5 mils (carrier, adhesive) 2 mils (carrier)

Adhesion:

25 ounces per inch (to stainless steel test panel)

Tensile Strength:

30 pounds per inch (longitudinal)

Dielectric Strength:

8000 volts

Service/Operating Temperature:

-100°F to 500°F

Elongation:

100%

Certifications:

MIL-I-23594C Type 1 (revised spec. CID A-A-59474)

Core:

3" diameter
Nominal Tape Widths vs Actual Widths
Tape rolls are cut to standard tape industry metric widths of approx. 24mm per 1-inch of nominal width ordered. As a result ACTUAL tape widths are normally 5% narrower than the NOMINAL width shown in inches. Examples:
1" Nominal width = 15/16" (24mm) Actual width
2" Nominal width = 1-7/8" (48mm) Actual width
3" Nominal width = 2-13/16" (72mm) Actual width
Note that tape rolls are NOT guaranteed to be splice-free.
Back to the top