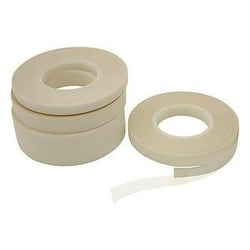 Adhesive Tape Products
Request For Quote, Please Fill Out Form To The Left Under Product Photo:
UHMW-10A Tape
UHMW-10A Tape
Ultra High Molecular Weight (UHMW) polyethylene tape
10 mil, with an aggressive acrylic adhesive. Its high chemical and abrasion resistance and extremely low coefficient of friction makes this a versatile engineering material for many severe service applications. Materials slide freely over tape surface with no slip/stick tendency. High impact strength and shock absorbing properties. Out wear Teflon and is a good replacement when high temperature resistance is not a requirement. Rub strips on conveyors, bearings and sliding surfaces, chutes and hopper liners, dead plates, wear pads, guide rails, furniture, and drawer slides. Used primarily in automotive specs. UHMW-10A is wound on a 4 mil white paper liner. Natural and transparent.
Technical Data:
Backing 10.0 mil
Total thickness w/o liner 11.8 mil
Tensile strength 60 lbs/in
Break adhesion 50 oz/in
Nominal Tape Widths vs Actual Widths
Tape rolls are cut to standard tape industry metric widths of approx. 24mm per 1-inch of nominal width ordered. As a result ACTUAL tape widths are normally 5% narrower than the NOMINAL width shown in inches. Examples:
1" Nominal width = 15/16" (24mm) Actual width
2" Nominal width = 1-7/8" (48mm) Actual width
3" Nominal width = 2-13/16" (72mm) Actual width
Note that tape rolls are NOT guaranteed to be splice-free.
Back to the top