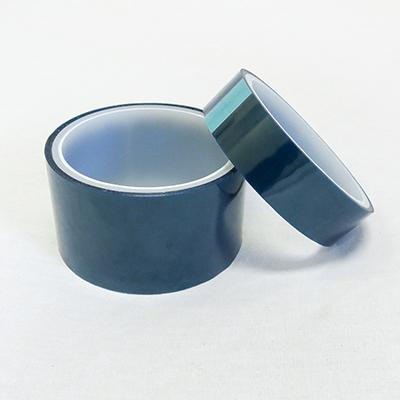 ---
Composite Bonding Tape
High Temperature "Flash" Tape
Temperature Range -60° F to 400° F.
Will Withstand Temperatures Up To 375° For One Hour.
This Tough Film Ensures That It Will Not Break Or Tear During Application Or Removal.
Resists Fumes & Chemicals.
Leaves Minimum Residue Upon Removal.
Designed As A Protective Mask Where No Adhesive "Flash" Residue Is Acceptable.
AEROTAPE® 8414 Is A 1.0 Mil Transparent Blue Polyester Film With A 2.0 Mil Coating Of Pressure Sensitive Silicone Adhesive, Totaling A Thickness Of 3 Mil.
Tape Is Wound On Plastic Cores For "Clean Room" Applications.
Comparable With: 3M 8901, 3M 8991 & Airtech Int'l Flashbreaker 1 Tapes.
Seventy-two (72) yards standard roll length.
Roll Size:  1" x 72 yards; packed thirty-six (36) rolls per Case.
Roll Size:  2" x 72 yards; packed twenty-four (24) rolls per Case.
Documentation:  AEROTAPE C of C
Shelf Life:  Twelve (12) months from DOM
---
We Also Recommend
---