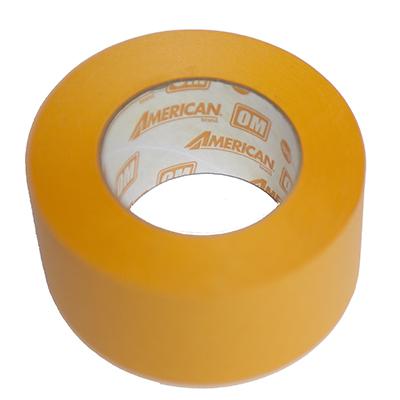 High Temperature Masking Tape
SYNONYMOUS WITH OUTSTANDING MASKING PERFORMANCE!
American® brand Orange Mask® (OM) is a high performance masking tape developed to provide superior adhesion, UV resistance and high conformability. OM unwinds and applies smoothly and removes cleanly to deliver clean crisp paint lines. Specially formulated adhesives provide excellent adhesion to semi-permanent release agents, making it ideal for the marine and composites industries. Also used for multiple transportation related paint applications in the automotive aftermarket, aerospace, bus, truck, RV and automotive OEM industries. For the best finish, get the best start with American® brand OM!
OM Case Sizes:
| | |
| --- | --- |
| 1 inch | 36 Rolls |
| 1 1/2 inch | 24 Rolls |
| 2 inch | 24 Rolls |
PRODUCT APPLICATION
Designed for masking fiberglass molds (gel-coating) and composites where either semi-permanent or paste wax release agents. For marine and other OEM (bus, truck, RV, automotive) paint applications.
Features and Benefits
Masking tape protects surfaces not intended for painting and is commonly used with masking paper or film. It has a thin crepe paper backing that tears easily, resists lifting and conforms well to a variety of surfaces.
Paper backings are made from compressed materials, typically cellulose pulp. Commonly water activated, paper backings are either torn by hand or cut.
Sharp color separation on curves or straight lines; resists bleed through
Exceptional cornering; clean removal
Smooth to touch – easy to work with
High temperature resistance
Holds masking paper or films
Excellent adhesion to backing when layered
Conformable with controlled unwind
Also Know As:
American Brand Tape
American Masking Tape
American Brand Masking Tape
American Orange Masking Tape
American OM Tape
Automotive Paint Tape
High Temp Masking Tape
Nominal Tape Widths vs Actual Widths
Tape rolls are cut to standard tape industry metric widths of approx. 24mm per 1-inch of nominal width ordered. As a result ACTUAL tape widths are normally 5% narrower than the NOMINAL width shown in inches. Examples:
1" Nominal width = 15/16" (24mm) Actual width
2" Nominal width = 1-7/8" (48mm) Actual width
3" Nominal width = 2-13/16" (72mm) Actual width
Note that tape rolls are NOT guaranteed to be splice-free.
---
We Also Recommend
---